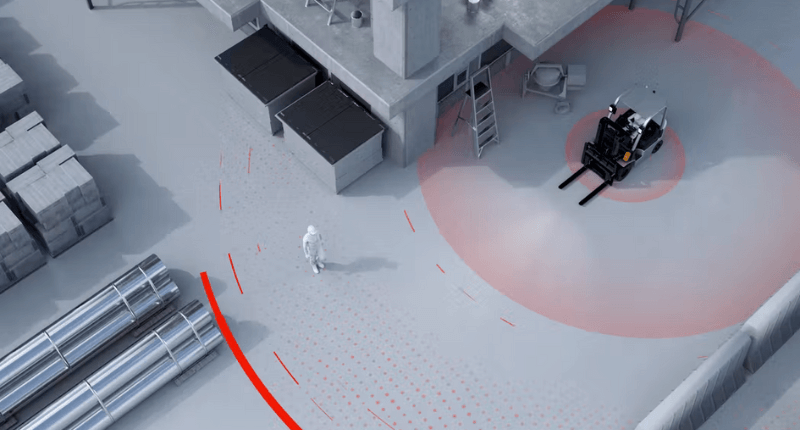 14 -July- 2022
Brigade develops RFID Technology used to create detection zones around vehicles
Construction equipment is notorious for having complex and numerous blind spots and visibility has long been an issue for operators and workers on the ground.
Equipment-using organizations and their operators have an obligation to ensure people are not endangered by vehicles under their control. In the event of an incident, an operator could be prosecuted and face hefty fines if they were found to be in breach of OSHA rules. So how can operators and drivers ensure they do not violate these rules?
"Construction sites can be extremely challenging and unpredictable environments," said Corey Heniser, CEO of Brigade Electronics, in a prepared statement. "Therefore, maintaining safety at all times can be very difficult. On construction sites, the need for safety is paramount, particularly as the slightest mistake can have devastating consequences.
"A variety of technologies are helping to address the problem of restricted visibility and blind spots on vehicles operating in construction sites. One of these includes the very latest RFID technology, such as Brigade's ZoneSafe proximity warning system, which will be launched in the US later this month."
ZoneSafe uses vehicle-mounted antennas that communicate with detection tags, which can be worn by workers or placed on objects or property. When a tag enters a detection zone, the vehicle operator will automatically receive a visual and audible alert via the in-cab control unit, which will enable them to take the necessary action. Tags worn by workers on foot will also vibrate to warn of an approaching vehicle.
Since ZoneSafe uses RFID technology, the tags will be detected regardless of obstructions, blind spots, adverse weather conditions, or poor visibility, according to Brigade. Each tag can be uniquely identified and linked to individuals or objects and does not require a line-of-sight to alert the operator of potential obstruction.
"This RFID technology is ideal for all types of construction vehicles that frequently operate within close proximity of workers and other machines," said Heniser. "The system provides fast, reliable and accurate data exchange without any limitation on the number of tags or antennas in operation, making it perfect for large areas like busy construction sites.
"The training of drivers is key to ensuring safety standards are adhered to," he states. "However, vehicle safety technology can add an additional layer of security and peace of mind for operators who strive to keep their workplaces hazard free."
News Courtesy: Brigade Electronics
Share