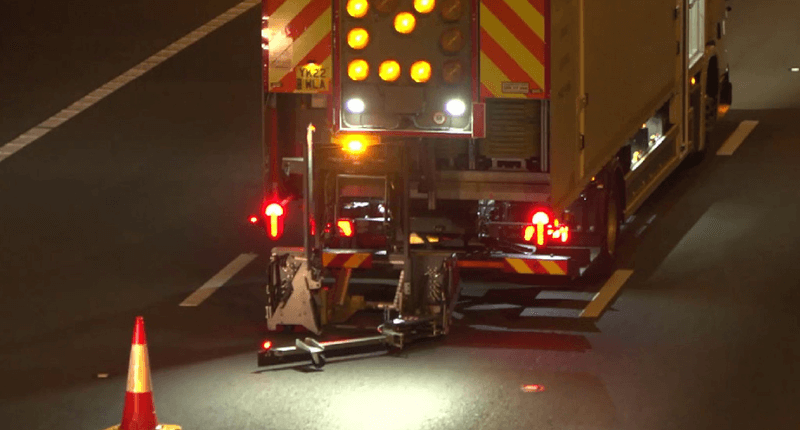 15 -July- 2022
Balfour Beatty rolls out industry first Automated Cone Laying Machines
Cone laying poses one of the biggest risks facing road workers and there has been an industry-wide push to try and tackle the number of annual accidents.
The new Falcon Automated Cone Laying Machines are built on Scania's low entry L-series chassis and will reduce incidents by minimising the time that traffic management operatives spend physically on the road network.
The vehicles can lay or collect a cone in under ten seconds, removing the need for workers to manually lift up to five tonnes of equipment per shift.
The Falcon Automated Cone Laying Machine has been developed and supplied by Highway Care and Switzerland-based technology partner SENN Engineering.
It is currently being used across Balfour Beatty's Connect Plus Services' consortium, which operates and manages the M25 and its key arterial routes on behalf of National Highways.
Phil Clifton, Balfour Beatty Managing Director Highways said: "We're delighted to become the first construction company in the UK to successfully roll out these revolutionary new Automated Cone Laying Machines.
"This is yet another example of the investment Balfour Beatty has made to transform how we work on our roads, showing that we continue to lead the charge in setting a new standard for safety.
"We hope the machines will radically improve the lives of Highways workers by reducing their direct exposure to a live road environment – demonstrating our commitment to achieving Zero Harm and to sending our people home safe and well every day."
Martin Bolt, National Highways Head of Lean and Continuous Improvement said: "We are continuously looking at ways to innovate and pioneer new products that improve safety on the road for both road workers and users.
"The Automated Cone Laying Machine takes out the human element in the laborious task of putting out cones as well as eliminating an element of potential risk. It also frees up workers who can be redeployed to other traffic management duties.
News Courtesy: Construction Enquirer
Share