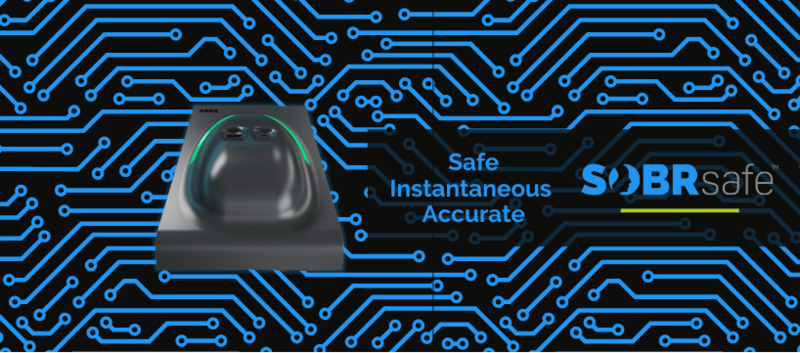 3 -November- 2022
SOBR safe has launched the first-of-its-kind touch-based alcohol detector as a workplace safety tool
Alcohol is one of the most dangerous substances in the workplace. If you're an employer and know that your employees are drinking, it's important to take action. That's why SOBR Safe, Inc., USA offers a touch-based alcohol detector meant as a preventative workplace safety tool along with applications for the criminal justice system and patient rehabilitation. Compared to traditional breathalyzers, this patent pending fingerprint scanner-like device, SOBRcheck is non-invasive and allows for integration into a data-management platform.
How SOBRcheck Work?
SOBRcheck is a new device that helps to identify whether someone is drunk. It does this by using two sensors: one to confirm the user's identity through a fingerprint biometric and the other to sense alcohol released through the pores of the fingertip. The idea here is that a user entering a facility will check into the system, which provides real-time results logged into the cloud-based software. This is particularly important in improving workplace safety where alcohol impairment is dangerous around vehicles and heavy equipment.
One example of a use case for SOBR Safe is a major transportation or logistics provider where a driver arrives at the depot for work daily. The system would check their sobriety, reducing workplace accidents and injuries by 47 percent. Notably, there are ongoing talks with insurance companies to recognize SOBR Safe's platform as an attractive corporate discounting opportunity.
The company also offers a smart wristband called " SOBRsure" that patients would wear when they relapse, triggering a cloud notification. The company also plans to market the product for parents to prevent underage drunk driving in teens. SOBRcheck could replace outdated breathalyzers, which are slow and non-hygienic.
SOBRsafe's touch-based alcohol detection can revolutionize the workplace safety industry, allowing for instant onsite testing of personnel with immediate results. The SOBRcheck solution is ideal for organizations that employ drivers, machine operators or others in safety-sensitive positions.
Share