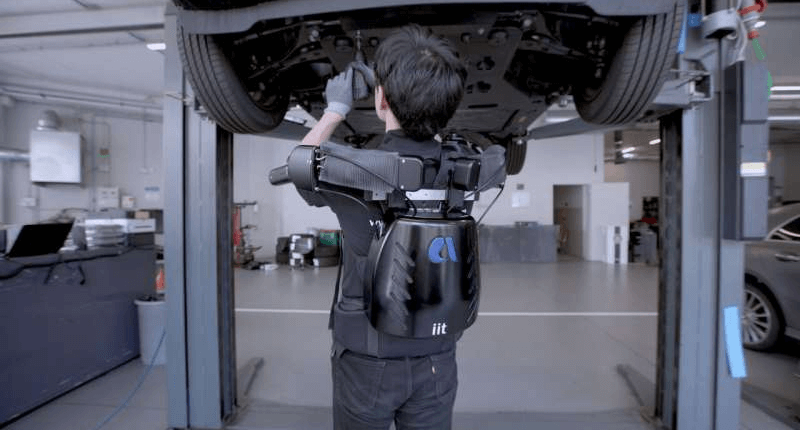 18 -June- 2022
New wearable robotic exoskeletons designed for industrial workers
Researchers at Italian Institute of Technology and INAIL have designed and created innovative prototypes of wearable robotic exoskeletons for industrial use. Via electric motors and artificial intelligence algorithms, these wearable robotic exoskeleton devices will assist workers engaged in the most physically demanding tasks, significantly reducing the effort required by up to 40% and lowering the percentage of accidents at work and chronic occupational disorders
The prototypes, XoTrunk, XoShoulder and XoElbow can provide reductions in physical effort of up to 40% for male and female workers in industrial settings
XoTrunk was designed to reduce the strain of repetitive load-lifting actions for weights of up to 20 kg, and more generally it is dedicated to all those jobs that could fatigue the operator's back.
XoShoulder was developed to meet the needs of people who exert their shoulders in the course of their daily work. The typical scenario is that of a mechanical workshop scenario where the operators are working under vehicles placed on car lifts and are subjected to shoulder fatigue because they have to hold heavy tools above shoulder level for prolonged periods of time.
XoElbow is a prototype that helps lifting weights close to the operator's body. An example of its application would be lifting heavy tires to fit them on a car on an automotive lift.
All three wearable robots are made of engineering plastics and aluminium alloys usually employed for aerospace applications, and they are designed for the principal industrial contexts in which operators, both male and female, are likely to put excessive stress onto their musculoskeletal systems: manufacturing, maintenance, food processing, logistics, construction, and agriculture.
It is expected that these wearable robots could be available in the market in the next few years.
News Courtesy: Tech Xplore
Share