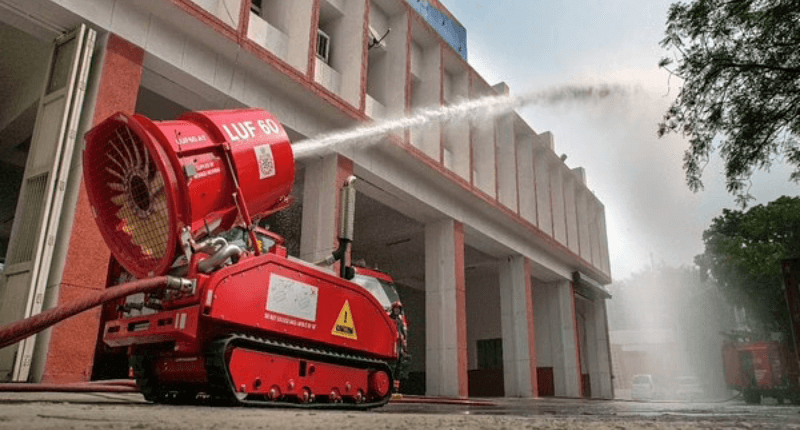 21 -May- 2022
New fire fighting robots inducted into Delhi Fire Service
The Delhi government on Friday, May 20 inducted two remote controlled fire fighting robots into the city's fire fighting fleet that will be able to navigate narrow lanes, reach spaces inaccessible to humans and perform tasks too risky for people, an official statement said.
Officials said the fire fighting robots can be operated remotely from a distance of 100 metres and can be deployed to douse fires in narrow streets, basements, chemical tanks and factories. They can even go up the stairs and break through windows.
Currently, the government has purchased two fire fighting robots from an Austrian firm on a trial basis. After monitoring the results, officials said more such machines will be purchased.
Delhi Fire Service director Atul Garg said, "Every robot is equipped with water pipes, and is controlled using a wireless remote. On reaching the site, the robot can extract smoke caused by the fire built up in the building through its ventilation system. These robots make use of high water pressure to douse the fire, spraying 2,400 litres in a minute. The spray installed in them emits small droplets and scatters it up to an area of 100 metres."
In recent years, the risks associated with firefighting tasks have been mitigated in the form of a new ally: fire fighting robots, which can perform the most hazardous tasks while protecting the physical integrity of firefighters, accessing confined spaces and gathering information to speed up the fire extinguishing process. Fire Fighting Robots has already been proven as significant success in many civilian fire brigades and Industrial fire dept throughout the world and is developing as an integral part of fire fighting fleet.
News Courtesy: The Print
Share