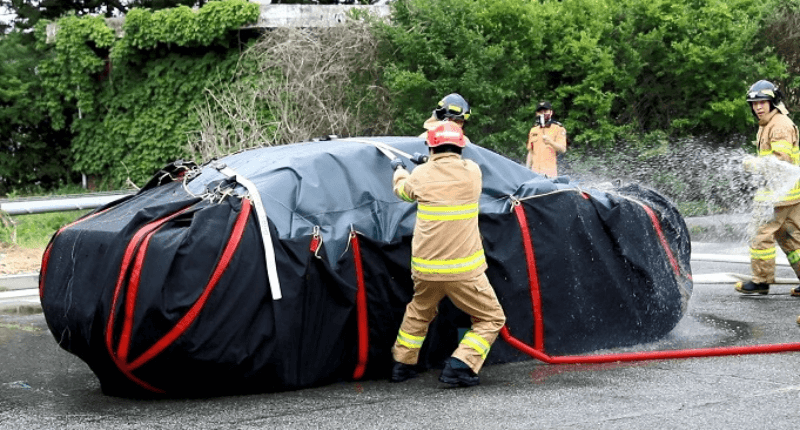 12 -July- 2022
Korea's Chungnam Fire Service Develops Water Pocket Technology To Put Out EV Fires
HONGSEONG: The Chungnam Fire Service Headquarters announced that it had succeeded in developing so-called 'water pocket' technology to quickly create a firefighting water tank needed to extinguish electric vehicle (EV) fires.
Water pocket technology uses a double tightening method by installing thin steel wires in a double layer format for four sides of a fire extinguishing blanket and then pulling it from both sides up over the top of the vehicle.
It takes a long time to completely extinguish EV fires, primarily due to the long burning time of the battery and the continuous creation of heat transition.
As a result of a demonstration conducted recently by the fire service headquarters, it took only six minutes to set up the firefighting water tank and wrap the vehicle with the fire extinguishing blanket. Three tons of firefighting water were filled within only two minutes.
According to experimental data from the National Fire Research Agency, it takes about 40 minutes to completely set up a prefabricated water tank when an EV fire occurs.
The water pocket technology, however, makes it possible to quickly extinguish EV fires.
News Courtesy: The Korea Bizwire
Share