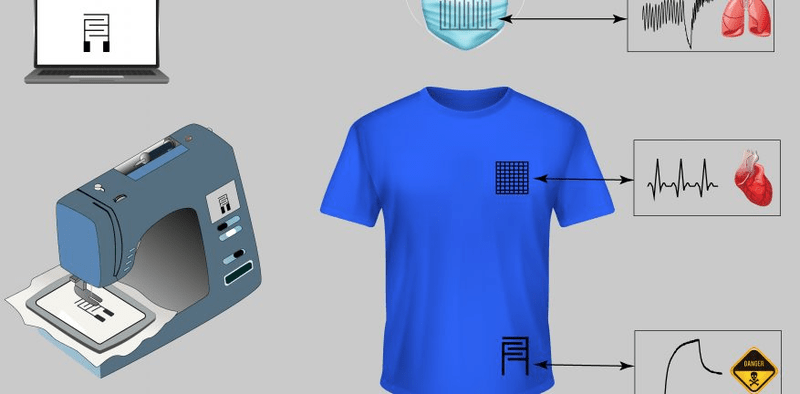 30 -September- 2022
Conductive Thread, PECOTEX Could Be a Game Changer in the Design of Smart PPE's and Work Wear
A newly designed conductive thread could be a game changer in the fabrication and commercialization of sensor embedded work wear uniforms and smart PPE.
Scientists at Imperial College London have created a new thread called PECOTEX that is compatible with existing sewing machines and can be machine-washed. The thread could be used to make embedded wearable sensors useful in tracking a number of activities including, exercise, sleep, and stress. It can help with the diagnosis of conditions through breathing and other vital signs.
The lead author of the study Fahad Alshabouna, PhD candidate at Imperial's Department of Bioengineering, said, "The flexible medium of clothing means our sensors have a wide range of applications. They're also relatively easy to produce which means we could scale up manufacturing and usher in a new generation of wearables in clothing and PPE."
3 feet of PECOTEX thread costs $0.15, enough to create 10 sensors for integration into everyday clothing items such as Tshirts or face masks.
Researchers have used the material in several tests, embroidering sensors into a face mask to monitor a user's breathing, into T-shirts for cardiac activity, and other textiles and PPE to identify potentially harmful gasses in the air, such as ammonia.
"PECOTEX is high-performing, strong, and adaptable to different needs," said lead author Dr. Firat Guder. "It's readily scalable, meaning we can produce large volumes inexpensively using both domestic and industrial computerized embroidery machines."
Further research is expected on how this discovery can be applied in the energy industry, specifically in energy storage and harvesting, as well as how to scale up operations to make the technology commercially viable.
Image Courtesy: IOT Word Today
Share