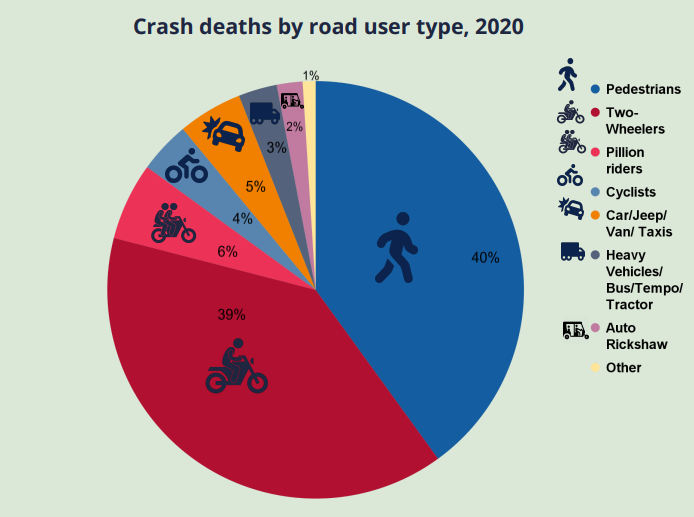 3 -February- 2022
89% road accident deaths in 2020 involved pedestrians, motorcyclists: Delhi govt report
New Delhi: Pedestrians, motorcyclists and cyclists accounted for 89 per cent of 1,197 deaths that occurred due to road accident in the national capital in 2020, according to a report released by the Delhi Transport Department. The report also found that 51 per cent of all fatal crashes in 2020 were instances of hit-and-run.
The report titled 'Delhi Road Crash Fatalities Report - 2020' was released by the Road Safety Lead Agency (RSLA) of the Transport Department in collaboration with the Bloomberg Philanthropies Initiative for Global Road Safety (BIGRS).
According to the report, motorcyclists, including riders and pillion riders, accounted for 45 per cent and pedestrians for 40 per cent of all the deaths in road crashes.The risk of death is relatively higher for men aged between 30 to 34 and 50 to 54 years, said the report, adding that among women, road traffic death risk was highest over age 60, it stated.The report also noted that the instances of fatal hit-and-run crashes have increased by four per cent in 2020 as compared to 2019.

"Through the detailed analyses of the crashes, we are identifying high risk locations and areas to implement strategic interventions and thus help save thousands of lives," said Delhi Transport Minister Kailash Gahlot. "Studies and road redesign efforts taken in the past have proven that crashes are preventable and such evidence-based reports, will help us take conducive steps to reduce road accident crashes on the streets of Delhi," he added.

The report was prepared in collaboration with Vital Strategies, a partner under BIGRS. In August 2020, Gahlot gad signed a participatory agreement to enter Delhi as one of the up to 30 participating cities under BIGRS across the globe.
The RSLA was formed in 2017 on the direction of the Supreme Court committee on road safety that recommended every state/Union Territory to form a road safety lead agency at the transport department to coordinate and deal with road safety issues. According to the SC panel's directions, the RSLA is tasked with collating road injury crash data periodically, and analysing the numbers to identify high risk areas or road stretches, and at-risk road user categories.

Ashish Kundra, Principal Secretary cum Transport Commissioner, said, "It is evident with this data, that pedestrians and motorcyclists are more at risk. We have started identifying the key high-risk locations and are committed to take remedial steps and reduce road accident deaths and crashes at these spots."
Access Full report: 2020 Delhi Road Crash Fatality Report
Courtesy: Hindustan times
Share