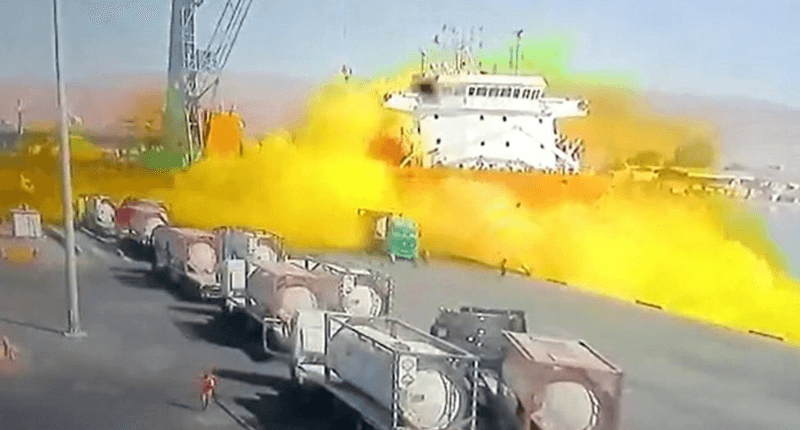 28 -June- 2022
12 Killed and 251 injured at Jordan port due to heavy Chlorine gas leak
At least 12 people died and 251 were injured in a chlorine gas leak from a storage tank at Jordan's Aqaba port, officials and state media reported on Monday.
The leak came after a tank filled with 25 tonnes of chlorine gas being exported to Djibouti fell while it was being loaded onto a vessel due to wire rope failure at the time of lifting.
A video posted on state television's Twitter page showed a storage tank falling from a winch and slamming into the deck of a ship, followed by yellow-coloured gas rising into the air as people ran away. Aqaba port at the north end of the Red Sea has long been a major transit route for Iraqi imports and exports.
Where chlorine is found and how it is used
Chlorine is an element used in industry and found in some household products. Most important use of chlorine is as bleach in the manufacture of paper and cloth, but it is also used to make pesticides (insect killers), rubber, and solvents. Chlorine is used in drinking water and swimming pool water to kill harmful bacteria. It is also as used as part of the sanitation process for industrial waste and sewage. Chlorine was used during World War I as a choking (pulmonary) agent.
Chlorine gas can be pressurized and cooled to change it into a liquid so that it can be shipped and stored. When liquid chlorine is released, it quickly turns into a gas that stays close to the ground and spreads rapidly. Chlorine gas can be recognized by its pungent, irritating odour, which is like the odour of bleach and appears to be yellow-green in colour. Chlorine itself is not flammable, but it can react explosively or form explosive compounds with other chemicals such as turpentine and ammonia.
When chlorine gas comes into contact with moist tissues such as the eyes, throat, and lungs, an acid is produced that can damage these tissues. Inhaling high levels of chlorine causes fluid to build up in the lungs - a life-threatening condition known as pulmonary oedema.
What to do if you are exposed to chlorine?
Leave the area where the chlorine was released and get to fresh air. Quickly moving to an area where fresh air is available is highly effective in reducing exposure to chlorine.
If the chlorine release was outdoors, move away from the area where the chlorine was released. Go to the highest ground possible, because chlorine is heavier than air and will sink to low-lying areas.
If the chlorine release was indoors, get out of the building.
If you think you may have been exposed, remove your clothing, rapidly wash your entire body with soap and water, and get medical care as quickly as possible.
Quickly take off clothing that has liquid chlorine on it. Any clothing that has to be pulled over the head should be cut off the body instead of pulled over the head.
As quickly as possible, wash your entire body with large amounts of soap and water. Washing with soap and water will help protect people from any chemicals on their bodies.
If your eyes are burning or your vision is blurred, rinse your eyes with plain water for 10 to 15 minutes.
If you have swallowed (ingested) chlorine, do not induce vomiting or drink fluids.
Seek medical attention immediately after chlorine exposure
News Courtesy: Reuters
Share